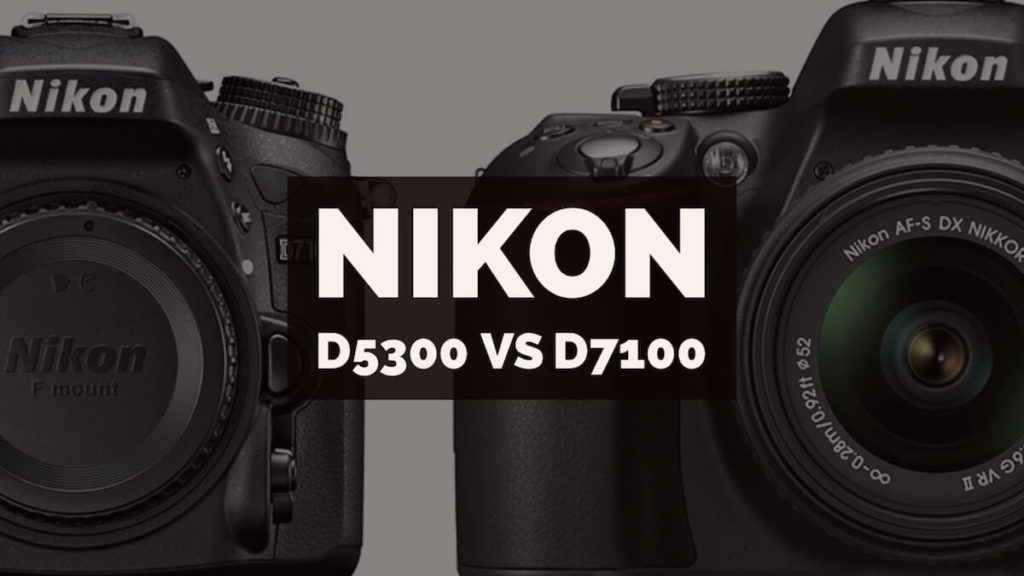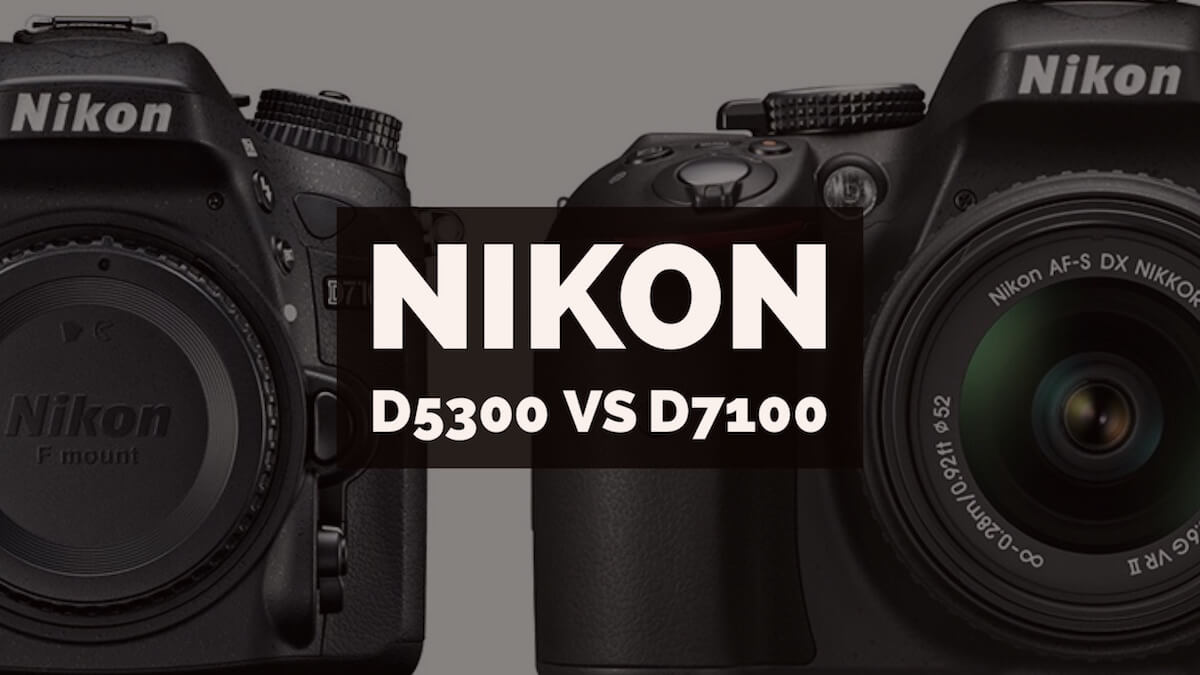 Many photographers do an enormous amount of research to decide between these two cameras. You may have done a good deal of research as well, trying to decide between getting the Nikon D5300 or Nikon D7100.
I decided to do this comparison of the Nikon D5300 and the D7100 because they are so damn close to each other, yet there wasn't any good comparisons that I was seeing. I sought out to finally find an answer to these difficult questions:
is it worth spending the extra money to get a D7100?
Are there other features that the D5300 has, which the D7100 doesn't?
Which is the better camera, overall?
The Short
This comparison was a tough one – And to be perfectly honest, both cameras are fantastic and most photographers would be thrilled with either one. However, depending on your needs you may be swayed to one or the other.
Nikon D5300 in a nutshell: For the average photographer, and for overall performance, the D5300 is a steal at its current $500 price tag. The image quality of the D5300 is on par with the D7100.
Nikon D7100 in a nutshell: The D7100 is for those photographers that are willing to spend a few hundred more for some added features. With the extra 'pro' features and lens options, the D7100 is one of the best DX cameras around!
Pros and Cons of Nikon D5300 & D7100
Like everything in photography, the "best" gear depends on your needs and preferences. In this review, I will go over the pros and cons of each DSLR and help you decide if spending an extra few hundred dollars is worth getting the Nikon D7100, or if you would be better off getting the D5300.

Nikon D5300
Nikon D5300 Pros
Image Quality: Excellent image quality
Body: Smaller and Lighter (pro to those that want a smaller body for travel/ mobility)
GPS: Nikon's first DSLR to have built-in GPS for Image geotagging
WiFi: Nikon's first DSLR to have built-in WiFi for easy picture sharing
LCD Swivels: Vari-angle LCD (Screen flips out – better for Video and unique stills)
Video: Full HD 1080 60 fps video capability
Sensor: Better Image processing engine (EXPEED 4)
ISO Range: Better ISO range due to the EXPEED 4 engine
Target market: Targeted towards 'advanced beginners' or intermediate users
Nikon D5300 Cons
Body: Smaller and Lighter (con to those who want a bigger body for steady shots/ bigger hands)
Viewfinder: Smaller, less comfortable Optical Viewfinder
No Autofocus Motor: Does not have an autofocus motor built in (Modern lenses have built in motor, so you won't have AF on older lenses)
AF system: Less Autofocus points (though it's still a great AF system)
Nikon D7100
Nikon D7100 Pros
Image Quality: Excellent image quality
Body: Sturdier build
Weather Sealing: Better weather and dust sealing (important for photographers who shoot at the beach, dirt, sand, etc)
Pro Features: More 'pro' features
Autofocus System: More Auto Focus Points (more cross type AF points)
Autofocus Motor: Autofocus motor built in – AF and A-FD lenses (This makes autofocus possible on older lenses, which is very nice)
Metering: Metering with AIS & AI lenses
Viewfinder: Larger and more comfortable viewfinder
Target market: Targeted more for the prosumer & enthusiast crowd
Nikon D7100 Cons
Body: Bigger body (con to those who want a smaller body)
GPS: Does not have geotagging in body (you can buy a GPS accessory though, use an App for geotagging, or manually add GPS in Lightroom)
WiFi: Doesn't have Wifi for easy file transfer
LCD Swivel: Doesn't have a swivel screen (though most Nikon DSLRs don't, which is a shame)
Video: Doesn't have 60 fps (only 60i, which is essentially 30 fps)
Quick Video Summary of D5300 vs D7100
Image Quality
TIE: Both DSLR's have fantastic image quality.
In similar shooting conditions, there isn't much difference in image quality between the D7100 and the D5300. They both take great pictures. The biggest difference in image quality between these two cameras would come from the skill level of the photographer, the quality of lenses used, or from the post production. Otherwise, they are very, very close in comparison.
The D7100 may have a very slight advantage on keeping more detail. The D5300 may have a very slight edge with noise. However, in identical situations, it would be difficult to tell the difference between photographs taken with each camera.
Overall, both DLSRs have fantastic image quality, and you should be very happy with either camera, regarding IQ (image quality).
D5300 example image
D7100 example image
Remember though, that image quality is largely about your lens. I would much rather have a cheap body with a nice lens, than an expensive body with a cheap lens.
Sensors
D5300: This was almost a tie because both cameras have very similar sensors that deliver great results. However, the Nikon D5300 has a newer image processing engine.
The sensors on the D7100 and the D5300 are pretty much the same. They are not the same sensor, but they have very similar specs. The D5300's sensor has 24.4 effective MP, while the D7100's sensor has 24.71 effective MP. They are both a CMOS sensor, and the image sensor format is the APS-C (DX format).
Image Sensors
D5300 Sensor
Effective Pixels: 24.2MP
Total Pixels: 24.78MP
Type of Sensor: CMOS Sensor (23.5 x 15.6 mm)
Image Sensor Format: APS-C (Nikon DX Format)
AA-filterless: Removal of optical low-pass filter (potentially sharper images)
Image Processing Engine: EXPEED 4
D7100 Sensor
Effective Pixels: 24.1MP
Total Pixels: 24.71MP
Type of Sensor: CMOS Sensor (23.5 x 15.6 mm)
Image Sensor Format: APS-C (Nikon DX Format)
AA-filterless: Removal of optical low-pass filter (potentially sharper images)
Image Processing Engine: EXPEED 3
On a side note, one upgrade that the D5300 has over the D5200 is that Nikon removed the optical low-pass filter, just like the D7100. This optical low pass filter removal potentially gives you sharper images in both DSLRs, particularly when using high-end Nikon lenses.
Overall, both sensors do an excellent job and produce stunning photos. However, the D5300 wins this race by a hair, due to its EXPEED 4 image processing engine.
Sensors: Image Processing Engine
Winner = D5300: The D5300 has the EXPEED 4 processing engine, which offers some slight benefits over D7100's EXPEED 3 engine.
Though the D5300 & D7100 have the low-pass filter removed and very similar sensors, the D5300's takes it up a notch in one regard: The D5300 has the upgraded EXPEED 4 image processor engine, whereas the D7100 has the EXPEED 3 image processor.
Why would you want an improved processing engine?
As the pixel count of a camera rises, the image processor speed becomes more and more necessary. The reason is, you wouldn't want to wait a long time for the camera to process the picture when taking photos. This would become irritating and inefficient if your camera were sluggish.
It's like having a faster computer when editing large video files. Ideally, you will have a relatively fast computer to process large video files. The same goes for large MP cameras. The higher the MP count, the faster you would want your image processing engine to be so it can efficiently process all that data of a larger MP file.
For these reasons, it is better to have the most cutting-edge image processor engines with a high MP camera:
EXPEED 4 Benefits (over the EXPEED 3)
Faster: Faster operational speeds
Better video: The EXPEED 4 allows 1080P at 60 fps rather than 30 fps in the EXPEED 3
ISO boost: Slightly better high ISO
Low Noise: EXPEED 4 is supposed to have better detail vs noise output
Color accuracy: The new engine is supposed to deliver more accurate colors
Less battery drainage: You may get more shots per battery charge on the EXPEED 4 vs the EXPEED 3, all else equal. However in the case of these two cameras, D7100 has better battery life.
Note though, that the differences may not be fully apparent in a real life comparison. In the Nikon D5300's case, here are the benefits you might get with the upgraded processor engine:
EXPEED 4 Real Life Benefits
Better video: The D5300 allows for 1080P at 60 fps rather than 30 fps in the D7100.
ISO: The D5300 has an ISO sensitivity range of 100-12800 due to the EXPEED 4.
On paper, all this sounds amazing, and it may persuade you to buy the D5300. However, in reality, the biggest benefit of the EXPEED 4 engine is likely going to be the higher FPS for videographers. Most videographers would want a camera that can shoot full 1080P at 60 fps, rather than 30 fps (which is the case on the D7100).
Using both DSLRs in the real world can tell a different story. A newer processor engine may theoretically give better image quality, lower noise, etc., but in the field, both cameras seem pretty comparable in most regards.
So this win is mostly for the video/ ISO (low light) benefits in my opinion. Otherwise, the sensors are very comparable.
ISO Sensitivity
Tie: There were very slight benefits of each camera in different regards.
D7100 vs D5300 ISO overview
ISO range: Winner = D5300
Detail: Winner = D7100
In focus shots: Winner = D7100
Detail
In general shooting conditions, there's not too much of a difference between these two cameras. For example, an image shot at ISO 100 with both cameras look nearly identical. However, on a deeper look when zoomed / cropped, the D7100 may have the slight advantage in the detail that it retains.
ISO Range
D5300 ISO: Sensitivity range of 100-12800, with ISO extendable up to 25600 (Hi 1).
D7100 ISO: Sensitivity range of 100-6400, with ISO extendable up to 25600 (Hi 2).
When shooting in low light, the D5300 may have a slight advantage due to its higher ISO range. However, there is another caveat. The D7100 has a slightly better autofocus system, which may yield more shots in focus in low light conditions.
In conclusion, It seemed to me that the D7100 and D5300 have very similar images, especially at typical ISO ranges (though the D7100 may retain slightly better details). The D5300 seemed to be a little bit better in lower light conditions, although the D7100 had better focus in lower light conditions due to its better autofocus system.
Video Capabilities
Winner = D5300: This is a pretty big win for the D5300. If you are planning on doing a lot of videos, you should Get the D5300
HD Video Capabilities (FPS)
Both the D7100 and D5300 shoot full HD 1080p video. Great. But what about the FPS?
D7100: Full 1080p at 60i/50i/30/25/24 fps
D5300: Full 1080p at 60/50/30/25/24 fps
If you are not aware of the differences between 60i and 60 fps, 60i essentially means you are shooting video at 30 fps. When you are shooting video with the D7100 at 60i, this means you are shooting interlaced frames, which is 60/2 (or 30 fps). The D5300 allows you to shoot video at 60 fps, which is very appealing to those who do a lot of video work with their DSLRs.
D5300 & D7100 Sample Video Comparison
Comparing each DSLR using 50MM 1.8G Nikkor lenses I didn't notice any major differences.
Besides the difference in fps, the video quality appears to be about the same, with a slight advantage going to the D5300.
Swivel LCD Screen (Articulating Screen)
Also, the D5300 is the only one with a vari-angle LCD (LCD screen that swivels out). This is pretty important when doing a lot of videography or for capturing stills from unique angles.
D7100: No swivel LCD screen
D5300: Has a swivel LCD screen
So if you plan on doing a lot of videos, I would personally opt for the D5300 over the D7100. You will find that this type of screen is essential when doing video, along with the full 1080p 60 fps.
Autofocus Systems
Winner = D7100: This isn't a huge win for the D7100 because the autofocus in only marginally better. The superior autofocus system is more apparent in low light and action photography.
D5300 Autofocus: The Nikon D5300 has a great autofocus system, which usually isn't the case with entry to mid level DSLRs. The D5300 has 39 autofocus points (only 9 are cross type, though), so it's no slouch in the autofocus department, especially at that price point.
D7100 Autofocus: The Nikon D7100 has the same autofocus system as Nikon's D4 and D800. The D7100 has 51 autofocus points, and 15 are cross type; Overall, it's a fantastic autofocus system.
Advanced Multi-CAM 3500DX VS Multi-CAM 4800DX
D5300 Autofocus System: Multi-CAM 4800DX
D7100 Autofocus System: Advanced Multi-CAM 3500DX
The D7100's autofocus system uses the Multi-CAM 3500DX, which has more AF points than the D5300's Multi-CAM 4800DX (51 vs. 39). Also, D7100's Multi-CAM 3500DX has a better distribution of the AF points than the Multi-CAM 4800DX. The Multi-CAM 3500's can work with f/8 lenses (center AF points), while the Multi-CAM 4800 only works with lenses up to f/5.6 using the same center AF points.
Real World Autofocus Comparison
It may seem much better on paper (51 AF points vs. 39 AF points), but in the real world, its only a little bit better. The difference only becomes more prominent in certain situations like low light and action photography.
D7100 autofocus would be better for:
Sports/ Action photographers
Low light photography
With the D7100, you should get more images in focus when shooting in low light conditions or with fast moving subjects. If your paycheck relies on action photography or low light conditions, then you might want to get the Nikon D7100. Otherwise, you would likely be ecstatic with both autofocus systems.
For general shooting and most photographers, the D5300 and D7100 would both offer more than adequate autofocus capabilities. You honestly probably wouldn't notice much difference between the two autofocus systems.
Autofocus Motor (Built Into the Camera Body)
Winner = D7100: The D7100 has the autofocus motor built-in. For some, this is a huge win, for others, this may not matter very much.
Why this is important: Having the autofocus motor built into the camera body allows you to have autofocus on older lenses! For me, this is the biggest appeal to the D7100 because I have a ton of older prime lenses.
The D7100 has an autofocus (AF) system built into the body, which allows you to have autofocus functionality on older lenses. Older lenses don't have the autofocus motor built into the lens like modern lenses do, so the autofocus in older lenses doesn't work on all camera bodies. Sure you can use older lenses on newer DSLR bodies, but unless it has an autofocus motor built into the body, you will have to manually focus all your shots. Having to use manual focus is not only inconvenient for many photographers, it can also be very inefficient when time is of the essence (like wedding photographers).
Photographers like me, that have either built up a collection of lenses over the years, or looking to get quality, yet inexpensive older lenses, will love the fact that the D7100 has the autofocus built into the body. This can be a no brainer for you to spend the extra $200-300 for the D7100 if you plan on using older prime lenses.
However, if you don't have older lenses and only plan on buying modern lenses with the AF built into the lens (which is the case with many photographers), you may want to save the money and get the D5300, which has some better video features.
Lens Mount
On the topic of lenses, here are the lens mounts of each camera:
D5300 Lens mount: Nikon F mount (AF contacts)
D7100 Lens mount: Nikon F mount (AF coupling / AF contacts)
Optical Viewfinders Compared
Winner = D7100: The D7100 has a better viewfinder. If you wear glasses or care about the optical viewfinder, the D7100 is probably the DSLR you.
Why a good optical viewfinder is ideal
Many consumers have stopped using the optical viewfinders in their DSLR cameras, in favor of the LCD displays. However, most serious photographers still prefer using the optical viewfinders on their DSLRs, for multiple reasons.
The optical viewfinder (OVF) inherent to most DSLRs offer some significant benefits. An optical viewfinder allows you to see through the lens, made possible by a system of mirrors and prisms. This gives you a more accurate compositional view because you see almost exactly what the actual lens is seeing.
Compared to an electronic viewfinder (EVF), the Optical viewfinder will be a better option for most photographers. The drawbacks to the electronic viewfinder (LCD screen) is that the refresh rate is still not perfect. An optical viewfinder lets you clearly see everything in real time, no matter the lighting condition. You can also track action better and hold the camera steady when it's up against your eye. Though the electronic viewfinders have come a long way and do offer some additional benefits, at the end of the day, many pro photographers still prefer using an optical viewfinder.
The viewfinder is often an overlooked aspect when considering a DSLR. However, since it is such an integral part of composing your shots, I believe it is a pretty important point.
D5300 Viewfinder
The D5300 has a new and improved pentamirror viewfinder with 0.82x magnification. It has about 95% frame coverage, which allows for a pretty comfortable and accurate experience while taking photos.
95% frame coverage
0.82x magnification
Pentamirror
D7100 Viewfinder
The D7100 has a much better optical viewfinder than the D5300. It has 100% frame coverage, and it has a glass pentaprism (pentaprisms are better than pentamirror). The D7100 also includes eyepiece lens coating, which should help you focus on your composition / subject matter. With 0.94x magnification, you should have a pretty comfortable viewing experience, as it allows you to see most of your subjects and the information display.
100% frame coverage
0.94x magnification
Pentaprism
As well as the viewing experience, the D7100 has a new EL viewfinder display element. This has a few nice features.
Information display below the image is bright, so you can see in most lighting conditions
High visibility under bright light
Low consumption so it saves a little battery live
Grid lines for landscape and architectural photography
Overall, the D7100's optical viewfinder allows for a much more comfortable viewing experience than the D5300. This is especially the case if you wear glasses while shooting.
Wrapping it up: Which one to get?
Get the D5300 if
Video: Video is important
Low Price: If price is a factor, go with the D5300
Honestly, most beginner and intermediate photographers would be very happy with the D5300. The D5300 has been dubbed the 'advanced beginner' DSLR, and for good reason. For one, you get a lot of camera for only $500 bucks. It's a great Camera, in my opinion, especially for the price.
Get the D7100 if
Lens Options: Lens options are important (AF works on older lenses).
AF System: Low light/ action photography is important
The D7100 is also a fantastic camera. This DSLR would be a good choice for those that have a little bit more of a budget to spend that want to get more 'pro' features, lens options, slightly better autofocus, etc.
The Winner
Both DSLRs are great cameras that take some great shots. You honestly cannot go wrong with either one. Choosing the Nikon D5300 vs the D7100? This one seems to be so close I'd be tempted to say it's a draw. However, depending on your needs, either the D7100 or the D5300 becomes the winner.
For me personally, I have a bunch of older Nikon Lenses from my dad. The ability to use autofocus on older lenses makes the D7100 a really tempting option for me. However, I am really trying to get into shooting more video more these days, so the winner for me is probably the D5300… This is seriously a tough decision.
At the end of the day though, the D5300 is a couple hundred dollars cheaper, has better video capabilities, and the photo capabilities are on par with the D7100. All these aspects make the Nikon D5300 a winner in my book. So if you don't have a bunch of older glass you need to have autofocus functionality with, if you want better video capabilities, or if you just want the best bang for your buck, I'd go for the D5300.
Don't be shy, let me know your thoughts! Did I miss anything? What do you think is the better camera? Let me know what you ended up choosing!